Celebrate all Eight Nights of Hanukkah with your CBS family!
Hanukkah arrives Thursday night, December 10
and continues through Friday, December 18.
Join us each night of Hanukkah for candle lighting, songs, and many surprises!!
Use the same Zoom link for all nights except Sunday, December 13.
On that night, we will be LIVE in person in the CBS parking lot (see details below).
https://brithshalom-org.zoom.us/j/94471375804?pwd=a0VhMUFYZ1hYc0NibXN4dk5NUnNSUT09
Meeting ID: 944 7137 5804
Passcode: 562431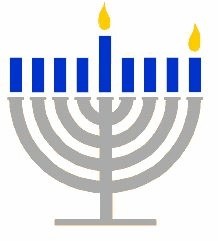 NIGHT 1:
Thursday, December 10 at 5:30 PM
Theme: Celebrating Who We Are
Let's light our hanukkiyot (menorahs) together and sing songs as we bring in the first night of Hanukkah.
After the program, send us a photo or video of your family lighting candles, and then join us on the 8th night for a fun slide show! Email photos to Barbara Loeser at bloeser@brithshalom.org.
NIGHT 2:
Friday, December 11 at 5:30 PM
Shabbat Hanukkah
Theme: Hope
Let's join together for the second night and Shabbat.
Led by CBS President Rhoda Goldberg, we'll light our hanukkiyot together and then our Shabbat candles.
Get ready to sing with Rabbi Teller!
Immediately followed by our weekly Kabbalat Shabbat Service at 6:15 PM.
NIGHT 3:
Saturday, December 12 at 6:30 PM
Please note the different time!
Havdalah/Hanukkah
Theme: Gifts of Self
Join Rabbi Teller and Cantor Levine to say goodbye to Shabbat and hello to the third night of Hanukkah.
Bring your hanukkiyah and be ready to sing lots of Hanukkah songs with Barbara Loeser.
NIGHT 4:
Sunday, December 13 at 5:30 PM
Theme: Light
Bring your family and friends to a DRIVE-THRU GLOW-IN-THE-DARK HANUKKAH EXPERIENCE in the CBS parking lot!
We promise a joyous, fun-filled experience featuring lots of lights, music, giant hanukkiyot and dreidels, goody bags, and more!!
Drive through any time between 5:30 and 7:00 PM.
Latke Pickup: Pre-order your latkes by Thursday, December 10 and pick them up at the drive-thru experience! The price is $10 for a package of 6 latkes.
Pre-order required. Email Shelley at nosher@att.net.
NIGHT 5:
Monday, December 14 at 5:30 PM
Theme: Family
Join CBS young families and Goldberg Montessori School families for a special night.
Barbara Garber, GMS Head of School, will lead us in lighting our candles, and Erin Lepselter, CBS Assistant Director of Education, will tell us a special story.
Rabbi Teller will lead us in singing our favorite Hanukkah songs.
All ages are welcome!
NIGHT 6:
Tuesday, December 15 at 5:30 PM
Theme: Hanukkah Music From the Great Cantors
The miracle of Hanukkah has inspired great works of music. Come appreciate our cantorial legacy and let your heart sing with Hazzan-in-Residence David Krohn!
CBS Men's Club President Wayne and Cheryl Lidsky will lead us in lighting our hanukkiyot.
NIGHT 7:
Wednesday, December 16 at 5:30 PM
Theme: Resilience
Part of the miracle of Hanukkah is that we have faced incredible obstacles (antisemitism, poverty, displacement) and still maintained the light of the Jewish people.
Join Cantor Levine to talk about this ability to "bounce back" from hard times.
CBS Women Presidents Caren Harris and Lisa Estes will lead us in lighting our hanukkiyot and, of course, we'll sing Hanukkah songs.
NIGHT 8:
Thursday, December 17 at 5:30 PM
Theme: Rededication
Our eight-day celebration of Hanukkah commemorates the rededication of the Second Temple in Jerusalem during the second century B.C.E., after Jews rose up against their Greek-Syrian oppressors in the Maccabean Revolt.
On this last night of Hanukkah, let us rededicate ourselves to our Brith Shalom community with a virtual communal candle lighting, our favorite Hanukkah songs, and a special slideshow featuring you and your families!
Mon, November 23 2020 7 Kislev 5781