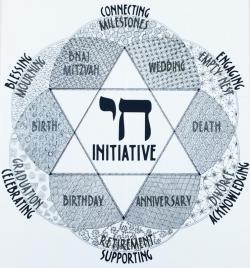 In recent months, Brith Shalom has launched the Chai Initiative, a new project with the intent of engaging our members more deeply during genuine life moments through community support, pastoral guidance, education, and loving-kindness. The series of interactions would demonstrate the value of synagogue life, the depth of Judaism, and the glory of God.
This new initiative, proposed by Rabbi Teller and supported by the Board of Directors, has been creating a structure for the first year of the initiative, under the leadership of chair Jamie Weiner and Cantor Levine. A think-tank team, reflecting various demographics within our congregation, has been meeting to flesh out some initial steps to make the vision a reality. The team has identified several foci as first steps:
A Wellness Team whose purpose is to reach out to those experiencing long-term illness who are at home.
A Retirement Team with the goal of exploring the needs of those who are retiring. We all recognize that retirement is more than merely the cessation of working. It involves (a) finding new meaning, (b) filling time in enjoyable and productive ways, and the (c) establishment of new relationships.
A Mourning Team to delve into new ways in which we might provide support to mourners in their time of need. We have an incredible Chesed committee who arranges an initial meal for mourners and assures that minyanim are provided. Together with the Chesed Committee, the Chai Team will meet with members who have experienced loss to explore that very question: What else could we do?
A Birthday Team to help celebrate significant milestone birthdays. Each of us is created in the image of God and brings great value to our world. A birthday is a day to celebrate that unique specialness without which we would all be less blessed. As a community, we will come together to mark important birthdays and to celebrate one another.
Clearly, there are many more ways in which we can impact lives within our community. As each of these initial initiatives comes to life, the Chai Team will be delving into additional ways to add Jewish meaning to other important life experiences.
Volunteers are needed to begin fulfilling these important mitzvot. Please consider deeply touching another's life by participating in the Chai Initiative in one of the above ways. Contact Cantor Levine to indicate your willingness to join this Brith Shalom venture.
Sun, April 5 2020 11 Nisan 5780